That lovable, huggable eejit Gordon O'Neill from Greystones telecoms titans Goldfish.ie has been in touch…
The man has decided his company should extend Casual Friday to the full week – and that means no more suits.
Which is how Gordon came up with the idea of Sack The Suit.
Calling on other companies to follow suit – or non-suit, to be more precise -and shake off the old formal dress code whilst doing some good for charity too, the plan is simple. Get your glad rags on and then drop off those unneeded suits and ties into your local charity shop.
Such as, of course, Greystones's favourite Italian designer shop, St Vincent de Paul.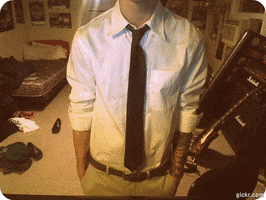 That's Gordon above, with two of the Vincent's young hot assistants. Yowsa.
Here's what the boy himself had to say about the initiative. "Being a modern company is not just about having modern products or services, you also need to have modern workingpractices. Too often Ireland is seen as being behind the times or slow to catch up –  this needs to change. At Goldfish.ie we have a very relaxed approach to our dress code, so my suits were just gathering dust and taking up space. I've sacked my suits, so I'm asking companies to join our campaign and sack their suits too. It will help them modernise and in doing so will also benefit a good cause."
You heard the cad! Take off your clothes. And hand 'em over to a local charity shop hottie. The only suit allowed at work is your birthday suit, baby.
You can find out more about the initiative, and about Goldfish.ie, on their website here. Or you could always call in to their offices, just above The Butler's Pantry, on the main street, and strip off there.
It is getting hot out there, after all.