Be the holy, it's not every day you get an award for your humble hardworking sausage…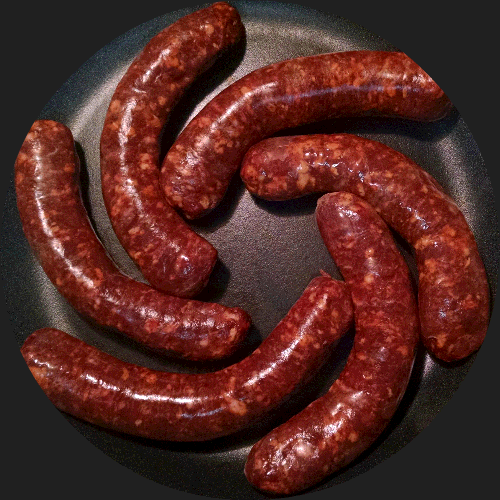 And it's certainly not every day that you get two gold cups and a framed certificate for your pride and joy.
Early this morning though, as the rest of Greystones picked up the pieces from the Paddy's Day celebrations the day before, butcher Des Doyle was welcoming two very special guests from the Commanderie des fins Goustiers du Duché d'Alencon.
Which, we think, is French for The Yummy Sausage Lovers Of France Association. Or thereabouts.
The reason for the visit being, naturally enough, Des' sausage. And the fact that the French just can't get enough of his fine stuff.
As part of The 4th European Championship for the Best Festive Product 2016, Des was awarded the Grand Prix d'Excellence.
Which, we think, is French for Grand, Excellent Sausage.
And being French, these guys pimped the hell out of the occasion, Anne and David Beresford wearing their Sunday finest as they handed over not only a framed cert to our local hero but two fancy gold cups too.
Naturally, given the possibility of free meat, Greystones Cathaoirleach Jennifer Whitmore was on hand. To congratulate Des on his award-winning sausage.
Congrats to everyone down at Des Doyle Butchers, and a big thanks to John McGowan for getting out of bed nice and early to capture the big event.
Des said he'd been in the Horse & Hound later tonight, if anyone wants to see his award-winning sausage up close.