And there we were, thinking that we had given the beautiful Doe Eyes everything anyone could ever want or need in a loving relationship.
A loving, caring, sharing, monogamous relationship.
Sweet neighbours, flowers, gifts, beautiful customers, electricity, running water, parking space, love and attention each and every single day…
Simply put, we made sure that Doe Eyes had the very best of everything. And now, it appears that our best simply wasn't good enough. Doe Eyes have gone Full Mormon on us, and taken another to their fine bosom.
Yep, Jessica and co are opening up a second branch. Out in slutty, nutty, two-timing Kinsealy.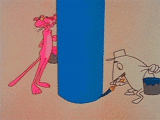 This is where Charlie Haughey lived for many years. Need we say more…?
Due to open on April 1st (no joke, by the way) in St Olave's, the paint cans are out, and the new furniture will soon be in.
We do, of course, wish Doe Eyes all the best in their new adventure. It's just going to be difficult for us over those initial weeks.
Everytime we see Jessica smiling and waving from her Delgany domicile, we can never be fully sure if, behind those come hither eyes, she's really thinking about That Other Village.
You can find out more about Doe Eyes right here, and about young Jessica right about here.