There's only one thing you really need to know about Greystones kid Baxter Gunn – he loves ska music.
That really tells you not only does this little guy have fine, upstanding, life-affirming, fun-fuelled parents in Kristian and Katie, but this kid's got soul. With a Jamaican twist.
And Baxter seems to have the rest of life sussed too. Who wouldn't want to start their day with hot chocolate and a muffin, followed by fun and games, a home-cooked lunch, the beach, and then a fancy-pants dinner? No wonder the kid is always so Tigger-happy.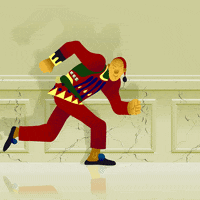 And, at those prices, Gunn Towers would undoubtedly become the most popular hotel in all of Wicklow in a matter of minutes.
Still, when it comes to the real Baxter Gunn, what is this muffin-munching, crépe-crunching, affordable-accommodation-loving tycoon tyke really like? To find out, we initially thought about asking Ma and Pa Gunn, but, then we remembered that neither one is actually capable of stringing a full, coherent sentence together. So, instead, we approached Baxter's older siblings – sister Kaya and brother Marley – for their take on the boy wonder.
According to the loving Kaya, Baxter is "cute, stubborn and annoying". For Marley, it's a little bit more complex. "Baxter is a 7-year-old boy who can be lovely when he's nice, and horrible when he's not".
Man, you can really feel the love. There's affection in those words. There's a deep bond that will last between these three forever. But, above all else, there's Madness…