Raising some much-needed moolah for Saint Joseph's Shankill's plans to build Ireland's first Dementia Village, siblings Rob and Elaine Lawless will be taking to the dancefloor for a Strictly battle.
Taking place on Saturday, May 13th, brother and sister will be cutting a rug with their respective partners in memory of their late father, Ed Lawless.
So, that just leaves the good people of Greystones with the dilemma of choosing between Elaine and Rob when it comes to sponsorship. Then again, you could always just throw each of them a euro.
Problem solved.
Not that GG could possibly choose between these two wonderful people either. Nonetheless, here's Elaine – who works at Saint Joseph's – on why she's going to face the music and dance…
This time two years ago my amazing Dad, Ed Lawless, was diagnosed with a devastating diagnosis of dementia.
Despite all our prayers, Dad died within 7 months of his diagnosis.
I miss him every moment of every day.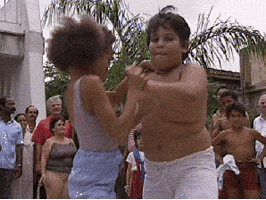 So I am doing something that I never thought possible for me. I am dancing in his name, in front of an audience! I know, who would have believed it!? Certainly Dad wouldn't!
Dementia is not an unknown disease to me – as many of you know, I work in Saint Joseph's Shankill, the largest dementia specialist home in Ireland. I am proud to say that the care that our residents receive here is amazing, and we aspire to be the first dementia village in the country.
We have created real homes for our special residents here and we want to do so much more. So your support will help others with the same illness as Dad… So, please, please sponsor me! I know I will be nervous on the night (in fact, the training already scares me), but I hope Dad will be there in spirit, cheering me on – as he always did in life – as I take up my chance to dance!
Taking place at the Talbot Hotel in Stillorgan on Saturday, May 13th, you can sponsor Elaine right here. And if you have any money left over, you can sponsor Rob here. You can also check out last April's Ed Lawless Golf Classic here.