There was only one simple rule when picking up your wristbands for the free outdoor Grease@TheCove screening this coming Friday, May 27th.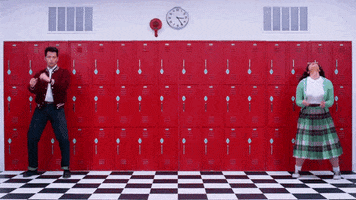 Before you were allowed to walk away with your tickets, you had to say, in your very best Elvis voice, "Well, thankyouverymuch!".
And, this being Greystones, each and everyone of the shiny, happy people down on Theatre Lane today delivered the line, beautifully. Some – such as the great Fiona Ryan – even managed a swivel of the hips and something that very closely resembled a pelvic thrust.
What a joyful morning. The great Ross McParland and Lisa Toner were there, making sure all their cunning plans and preparations came to glorious fruitition, with the latter's two daughters, Arianna and Holly, and their friend, Katy, helping make the day go off with a wopbopaloobop and, it has to be said, awopbamboom.
The beautiful Arianna even went to the bother of making a ganzy load of yummy Grease and 1950s rock'n'roll themed cupcakes for everyone who came down today, whilst the not-so-beautiful John Hartnett from Theatre Lane Cafe brought out some mini chicken baps.
Throw in some rock'n'roll blasting from the PA, a good old-fashioned popcorn machine a-poppin' and a-hoppin, and the lovely Irina working on her latest funky wall mural, and you've got yourself a darn fine way to start any sunny Sunday.
Even the hailstones seemed to realise we were having too good a time for their misery to take hold, and they were gone after a quick ten-minute shower.
The only shower that were missing on the day, in fact, were Greystones Eejit Ten, those individuals who booked tickets but, despite the fact that the details have been on the Guide for four weeks – on the COVER! – somehow managed to forget that the wristbands were being handed out today.
If you're one of Greystones' unfortunate Eejit Ten, try and find someone with a watch and a diary, and have them remind you on Wednesday evening that their last chance to pick up their wristbands for this rather special night will be between 7pm and 8pm that evening at Greystones Studios.
That's Wednesday, May 25th, Greystones Studios, 7pm to 8pm.
You can see the full gallery of groovy Grease shots here, and catch the action of the big night itself here.