Ah, there's nothing quite like that bracing Irish Sea air to bring out the best in people.
And the lust, it would seem.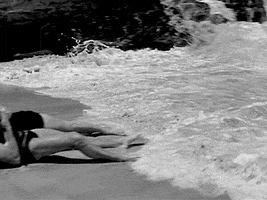 A simple stroll with my trusty sidekick, Max, along Greystones seafront today, Wednesday March 9th 2016, had our hearts initially swell when we saw a couple of middle-aged lovebirds cuddling up, as the waves crashed majestically onto the Cove rocks beneath them.
It could have been a scene straight out of From Here To Eternity. Only with clothes on. And a bench.
Walking on, Max and I still whistling with the joy of true love, a beaming sun and a rousing sea, we paused to breathe it all in just beyond The Men's diving den.
And that's where we saw young love at full volume, a pair of teenagers snuggling as hard as they possibly could in public. Having taken refuge behind an overflowing flowerbed that blocked them from the street but not the South Beach (d'oh!), the rabid raunchiness of that First Kiss was clearly pulsating through their veins.
I tried to avert Max's eyes, but, it was too late.
The poor dog now barks with a stutter. A bow-wow-wow, yippee-yo, yippee-yay. His words, not mine.