There are plenty of reasons to love Caffé Delle Stelle.
Firstly, there's the coffee. Award-winning, don't you know, voted as the home of Greystones' Best Coffee 2015 and 2016 by the good readers of GG.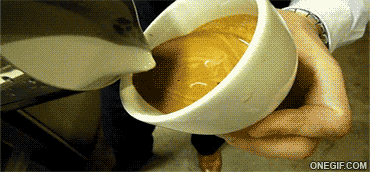 Then there's the food. Proper, wholesome meals straight from the kitchen, from your traditional fry to something far closer to the Mediterranean. All prepared on-site, and in sight.
Last, and by no means least, there's the atmosphere. The defining menu item for most people when it comes to eating out, Caffé Delle Stelle has an atmosphere quite like any other cafe in Greystones.
And that atmosphere is mainly one of fear and trepidation.
Will boss Tomasso be in a foul humour today, or just a grumpy one? Will he shout at you for ordering another glass of water, or merely spit in your coffee when you complain about a draught?
Who knows? Which what makes dining out at Caffé Delle Stelle such a unique treat. They really should change the name of this place, just as GG suggested.
Oh, and just in case you didn't know, Tomasso is now offering to be grumpy – and dopey – at your Christmas bash, as Caffé Delle Stelle is now available every Friday and Saturday evening, right up to the big day.
Learn some more about Tomasso Spenatto right here, and if you want to book a table – or a party – at Caffé Delle Stelle, the number is 012010731.
Just don't call when Tomasso is busy. Or tired. Or dreaming about mama's pasta pudding.